First Time On the Market in 40 Years!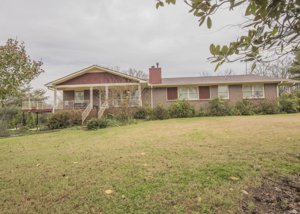 Recently I had the pleasure of meeting the owners of this one-of-a-kind home and what a sweet couple! They custom built this home in 1976 just the way they wanted it. Of course, over the years they've changed some things around somewhat. Even raised their children here. Now they've gotten on up in years and are ready to move closer to their grandchildren and not have so much property to keep up with.
About The House
This ranch style house is sitting in the middle of 15.4 acres on Almaville Rd in Smyrna, TN. It boasts three large bedrooms and two full baths. The owner's suite is huge! There's a porch just outside for those warm summer evenings before you retire for the night. Two extra large closets and a spacious master bath complete this end of the home.
The expansive living room is carpeted with a brick fireplace that can be used as a gas fireplace (just supply your own bottled gas) or a wood burning fireplace. From there you'll enjoy a large eat-in kitchen with spectacular views of the property.
Outside you'll enjoy an oversized deck that wraps around almost half of the house! Plenty of room for entertaining. There's even a large screened-in portion complete with ceiling fan!
The full basement is just perfect! There is room for two vehicles, a game room, laundry room, and an area for woodworking, crafts, or whatever your heart desires! Would be a great place for a Man Cave or a She Shed! There's also a half bath in the basement!
The property borders Stewarts Creek in the back. You'll also find a tractor, or equipment shed that has room for plenty of your farm equipment, boats, classic cars, etc. In the front of the property is a pond.
Contact Me For a Private Tour!
If this sounds like a place you'd like to call home, please call or TEXT me at 615-337-3989 for immediate response. Or simply send me an email with your name and phone number to eddiemann2015@gmail.com. I'd be happy to show you this amazing property!